Do You Like to Write?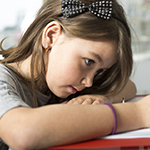 Lots of kids think writing is hard or a lot of work, but it's not! If writing papers for school doesn't seem like fun, you might just be looking at it the wrong way. Writing is like talking, but on paper! The more you write, the more you learn to understand yourself and other people.
Here are some types of writing you should try:

Write to yourself. When you write to yourself, there are no rules! You can put down just a few words for a quick note, or you can write pages and pages of good things that happened to you that you don't want to ever forget. The best part is that writing to yourself will help you get better at all other kinds of writing!

Write a letter. Talking to your friends is fun, but writing them letters is even better. Exchanging letters with a pen pal is a great way to get to know someone else. The best part is that it's a record of your friendship you get to keep forever!
Write an essay. You've probably had to write essays for school. Maybe you didn't like it, maybe you did. Part of the reason school essays are hard is because there's a time limit and you don't get to choose what to write about. When you write an essay on your own, you can pick any topic you like and explore it however you want!
Write a story. You can write a story however you want. Try starting with a memory you like, then change the characters and build a whole new plot!
Write a little bit every day!